Go Cat Speedshop's
very own Vintage Style Air Scoops
100% American Made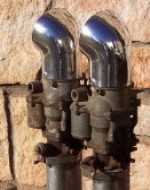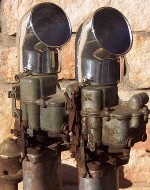 The Finishing Touch on Your Hot Rod or Custom!

New '40's-'50's Style Cast Aluminum Carb Scoops with a built in washable/reusable air filter!


Designed to fit Holley '94 and Stromberg '97 Carbs and GM Rochester Carbs
on your Ford, Chevy, Mopar, Pontiac, Olds...etc. Carbs with 2-5/8" necks.


Locally Cast, Hand Filed and Sanded then Polished.


$50 Each. These are NOT the Cheap Tiwan pieces of Crap you see all the time with a copper screen you can pour Sand and Bugs Through. Each Go Cat Scoop takes nearly a Day to file, hand sand and Polish! the quality can't be beat, plus the added benefit of a real (washable) Filter Inside.
Email with Any Inquiries.